Thought Hub
IAB MeasureUP Wrap Up
How does your business measure up?
This week's annual IAB MeasureUP Conference was an eye opener for businesses and brands, writes Yango state manager Sara Varnell.
It's a staggering figure – 52.3% of media money is now being invested in digital touchpoints.  With this level of spend, you would think it's safe to assume it's having some sort of impact on brand metrics? There has, however been very little visibility at an industry level as to what extent. Fortunately, though, IAB Australia's focus on helping businesses and brands succeed through better digital measurement approaches has uncovered some solutions that were covered at the annual IAB MeasureUp conference, including topics from the cross-channel brand impact of digital to creativity and cookies.
DIY measurement
Two of my favourite keynote speakers, Angela Greenwood, Director Acquisition Marketing, Optus and Jeroen Verspeek, Head of Audience Measurement, BBC, outlined how they have taken the bull by the horns to measure cross channel impact and built their own models.
While the reasons for starting the projects were different, both highlighted the frustration of siloed measurement frameworks and a need for bespoke approaches to measurement. Every business is different, a one-size-fits-all model won't help business transform and grow.
Brand impact
A great study by Kantar and the IAB on the impact of digital campaigns on brand impact was launched at the event: The Digital Brand Effect – I recommend having a read.
The study quantifies what many of us have suspected around the ability of digital to secure brand impact and now we are starting to prove this.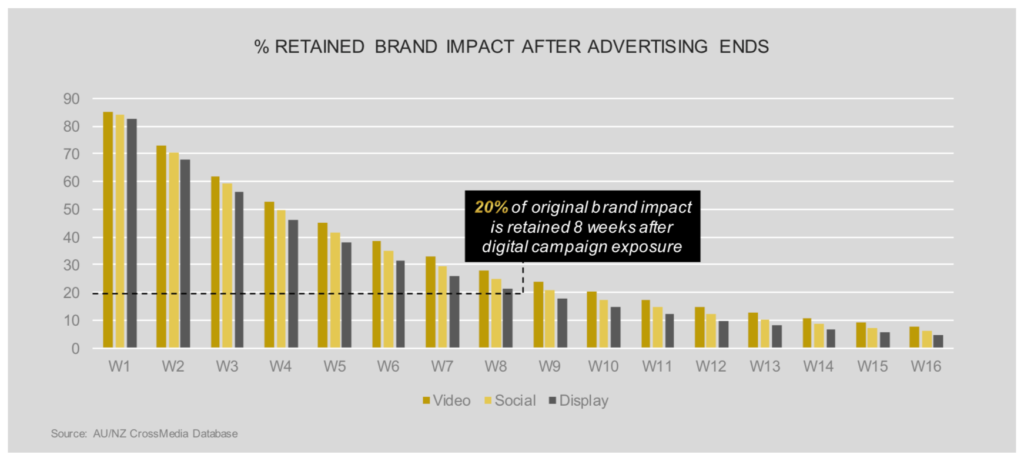 This study puts numbers behind what most of us have felt for some time – digital positively impacts brand metrics. Even if your brand still sits squarely in the direct response touch points, there is an impact and it's not just short-term sales:
The big take out? More than 20% of original brand impact is carried through eight weeks after a campaign ends.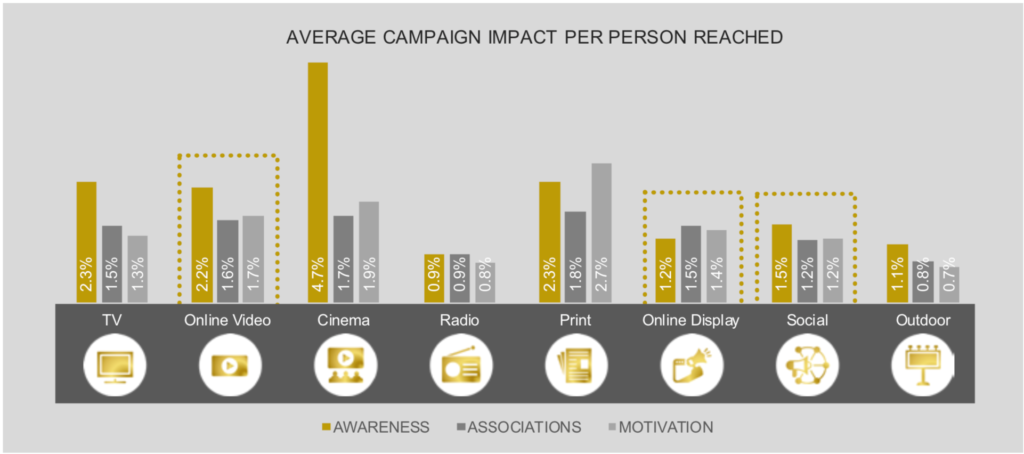 Creative counts
The role of creative has been a common theme across many of the industry events this year and MeasureUP was no exception. And rightly so. Lately marketers and media practitioners have dedicated a LOT of time to topics such as data, technology and buying approaches. But let's not forget creative, the Kantar study suggests over 50% of campaign impact is based on the quality of the creative messaging and its ability to cut through.
If you're not getting that right, you may be missing out on revenue and growth opportunities.
Balancing act
A multi-channel approach continues to show the effectiveness of running both digital and offline campaigns together.
I challenge you to invest your time in the areas that drive impact and deliver value back to your business.
Cookie monster
Some see the looming future of a cookie-free life as doom and gloom. In reality, though, it's a brilliant opportunity to innovate.
Cookies weren't designed for what we now use them for. Relying on them to inform analysis has resulted in flawed and disjointed measurement structures.
In addition, consumers are becoming more aware of their digital footprint. (Weather we feel they understand the pros as well as the cons is a whole other topic of discussion.)
Browsers and regulators are taking control.
My favourite quote of the day on this came from Rubicon Project, VP product management Garrett McGrath: "Identity needs to be a community asset. At the moment it's weaponised."
If you take this lens, you can't help but be excited by the possibilities.
Want to work together?
If you have a challenge to solve, we'd love to hear from you. Get in touch and leave your details, or feel free to call us direct.