International student recruitment during COVID
Challenge
With the coronavirus pandemic shutting down international travel, creating mass unemployment and turning
education delivery on its head, recruiting students to start in semester two this year provided unprecedented
challenges.  Austerity measures meant that not only did the University seek recruit students in the most
difficult time in recent history, they also needed to fill a large revenue gap, and do more with less resources.
Plan
Coronavirus travel restrictions meant we needed to radically rethink how the campaign is delivered and
how we promoted our education offering. To drive lead generation and applications in international markets with borders still closed, we developed a comprehensive digital-focused marketing campaign.
Execution
We had 2 clearly defined tasks for our S2 International recruitment being immediate applications and leads we could follow up, nurture and convert into future applications. For applications, we focused on people who had already started an application anytime within the past 6 months, while in terms of lead generation we were asked to initiate leads to fill the pipeline for future campaigns. We used a combination of Display, Social and Search to reach our audience in key target markets that included India, China, Hong Kong, Singapore, Indonesia, Vietnam, South Korea and Taiwan.
We used custom audience lists to target users who had started their application, along with feeder school lists to target users who have attended specific high schools, colleges and universities across the world. We combined this with niche prospecting strategies to ensure we were driving qualified traffic to the USYD site for remarketing purposes and to continue nurturing interested students. We also used WeChat to engage 6,667 students who had deferred or suspended their studies due to travel restrictions. This program was highly successful, with 41.2% of the deferred students now re-enrolled.
Results
The campaign delivered impressive results across the priority markets of China, India, Hong Kong, Singapore,
Indonesia, Vietnam, South Korea and Taiwan.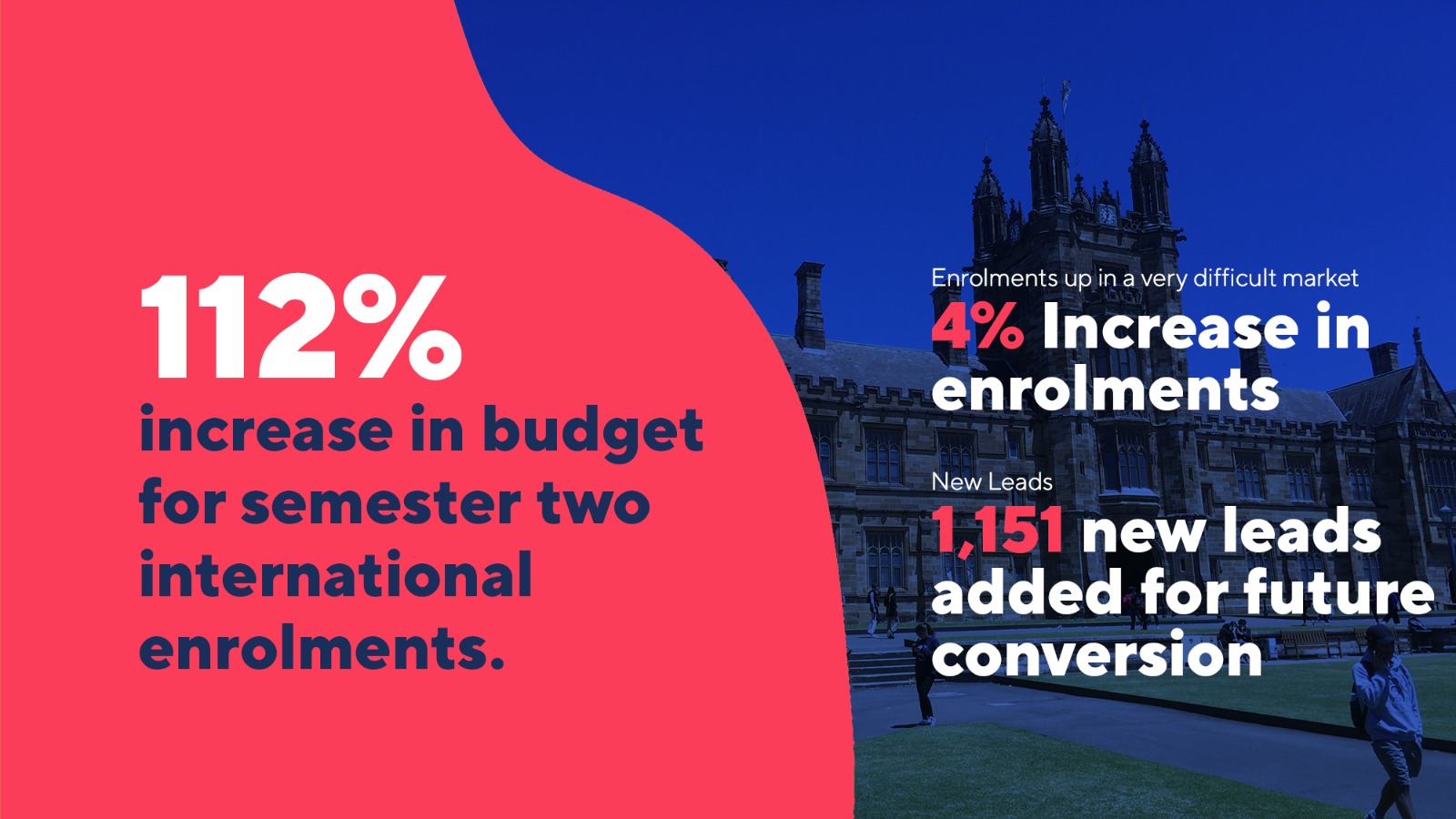 Collaboration
The challenges presented by COVID-19 meant we needed to collaborate in ways we've never done before and
trust each other's expertise. This approach paid off, setting a new standard for how we work together.